Emma Alvarez Gibson
Emma Alvarez Gibson's multicultural, multiIingual, multipassionate approach to life informs all of her work, from creative strategy and branding to fiction, journalism, and web content. Her writing has been featured in print and online magazines, newspapers, and anthologies, and she has helmed both print and online publications. She's the co-owner of Dossier, a branding and marketing agency, along with Katie.
Born and raised in the suburbs of Los Angeles, Emma lives there still, with her husband, son, and two troublesome dogs. She yearns to be able to travel again, to enjoy a dirty martini with two olives that she hasn't made herself, to attend live music events, and to hug everyone she doesn't live with, repeatedly. Find out more at alvarezgibson.com.
CLay D. Major
Clay D. Major hasn't a cool bone in his body. He has worn Mork from Ork suspenders to school, attended more Star Trek conventions that can be counted on an Earthling's fingers, and will pitch an absolute fit if unable to see Denis Villeneuve's forthcoming Dune in iMax because COVID. But he knows Cool when he sees it, and enjoys writing only slightly more than he loves to read.
When not coolhunting for the Compendium, Clay is a solutions consultant for a Silicon Valley software company, enjoys traveling and barrel-proofed bourbon, and has been known to tread the occasional community theater's boards. He lives in Des Moines, Iowa, with his girlfriend and—if the latter can be finally persuaded—a forthcoming medium-sized dog.
KATIE BOYER
With a background in art and a passion for project management, Katie's as happy with a spreadsheet or a piece of code as she is writing copy or sourcing the perfect image. Her love of media and communication has led her to jobs in radio, magazines, and digital media, as well as guaranteeing that she'll never quite reach the bottom of her stacks of music, movies,
and books. She's the co-owner of Dossier, a branding and marketing agency, along with Emma.
Katie is entirely incapable of doing anything halfway, from the 13-course themed dinner parties she enjoys hosting to the elaborate three-tier cakes she will bake given the flimsiest of excuses. She holds a deep appreciation for olives and gin—sometimes even together; high-maintenance skincare routines; expansive, open-world video games; and just about anything science fiction or fantasy. Katie lives in Florida with her two daughters.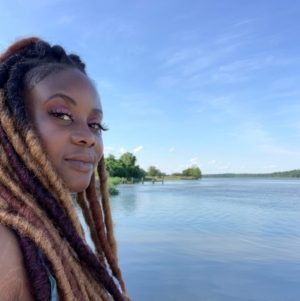 Ngozika "Go Zee" Egbuonu
Ngozika is a passionate nonprofit professional and content creator with more than ten years of experience working in a variety of communications roles. Currently, she serves as the Community Engagement Manager with Network for Good's Jumpstart program, which is an immersive, yearlong program focused on supporting small-but-mighty nonprofits by providing them with the integrated tools, plan, and one-on-one coaching required to increase fundraising capacity, diversify revenue, and sustain their missions. Born in Enugu, Nigeria and raised in Cheverly, Maryland, Ngozika moved back to the Washington, DC area after spending seven years in Los Angeles working in the fashion, ecommerce, and behavioral health industries for organizations like HauteLook, BCBGMAXAZRIA, and Verdugo Hills Autism Project. Prior to moving west, she attended Washington and Lee University in Lexington, Virginia where she earned a Bachelor of Fine Arts in Studio Art. Ngozika also holds a master's degree in Psychology from Pepperdine University Graduate School of Education and Psychology and a Master of Science in Medical Humanities and Bioethics from the University of Rochester School of Medicine and Dentistry. When she's not at her day job, Ngozika keeps herself busy by producing her podcast, Questioning Everything, serving as the Graphics/Website Manger for the Communications Committee on the board of the DC chapter of the national women-focused environmental group, EcoWomen, and developing a social and environmental justice nonprofit called The Human Movement. During breaks between those projects, she can be found hiking trails throughout the greater Washington area, finishing up an art piece or painting, or trying out some standup comedy at a local open mic (in the 'before times,' of course). Ngozika also enjoys meeting new people and welcomes the opportunity to make connections.