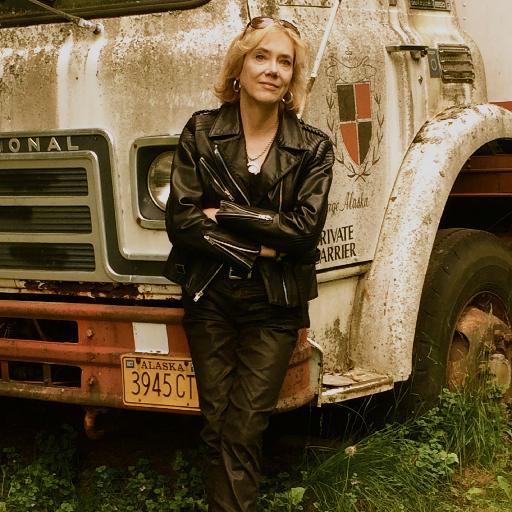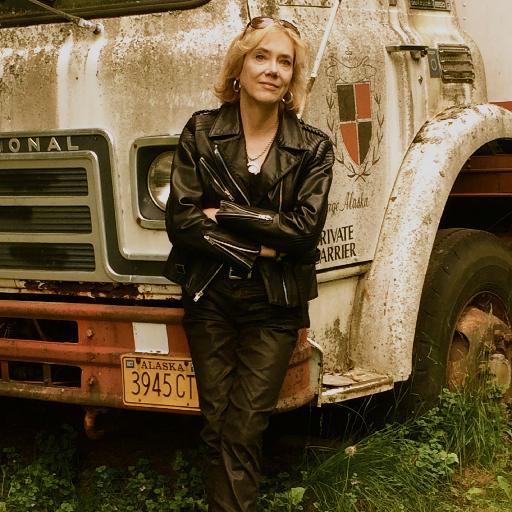 SECRETS
A Conversation with Elizabeth Hand
Elizabeth Hand is the bestselling author of fourteen genre-spanning novels and five collections of short fiction and essays. She is also incredibly cool, despite her assertations to the contrary. Her work has received multiple Shirley Jackson, World Fantasy and Nebula Awards, among other honors, and several of her books have been New York Times and Washington Post Notable Books.
EAG: Crime fiction has gotten hugely popular. It's suddenly much cooler than it has been in recent years. I'm curious about your take on what that says about us as a society.
EH: Part of the explosion in crime fiction in the last few years has been the amount of amazing work that's being done by women writers. Obviously there've always been women crime writers; Agatha Christie on to Martha Grimes, Sarah Paretsky. Many, many people. And people like Laura Lippman, who's been writing for awhile now, who's really cool and still is working.
I think probably starting with The Girl with the Dragon Tattoo, which was not by a woman, but I think in some ways for some writers, it perhaps opened a gateway to say, "Okay, wait. This is a different kind of character than we've seen before." This sort of edgy, dark, tormented individual, which is the kind of person that we see a lot in traditional crime fiction written by men. But until relatively recently not seen that many in books written by women, and now we've seen a lot. There's Gone Girl, there's Megan Abbott's books, there's Laura Lippman's books, which take a very distinctive and different view of their female characters than male writers do. And those books have proven to be hugely successful, those books by those writers, because the people who read books are women. Primarily, women are the biggest demographic buying and reading books.
I think it's an interesting shift in how women are finding different kinds of characters to identify with in books. Characters who are more assertive, maybe more aggressive, maybe sometimes prone to violence, prone to fighting back. I think that our present moment, the Me Too moment, is a big one for women in the real world starting to fight back and take back sovereignty, the rights to their own bodies, to their lives, to their careers. And I think a lot of that is reflected in crime fiction, which again, not to denigrate domestic fiction by women or about women, but I think there's sort of a freedom. I think for women, they often still do feel constrained. We feel limited by what we can do or achieve, and on the page we don't. I know just from what I've heard from people who've read the Cass Neary novels talking about how they identify with this character and they're so happy to see a character, a middle aged woman who's going out there in the world, who has a history, who is not really ashamed of what she is, fucked up as she is, and so they can kind of go along for that ride maybe because they haven't been able to do it in their own lives.
"Women are finding different kinds of characters to identify with in books. Characters who are more assertive, maybe more aggressive, maybe sometimes prone to violence, prone to fighting back."
Another author who I think really pushed a lot of boundaries and pushes the envelope is Cara Hoffman. Her first novel, So Much Pretty, is just a very dark, very brilliant crime novel set in upstate New York. Kind of unlike anything I've ever read. It takes a total left turn about three-quarters or four-fifths of the way through the book, one of those things where I was like, "Oh my God, I totally did not see that coming." I won't say what it is, but that shift in the book and what happens with the central female character is really intriguing, and I think for a lot of people is very polarizing and transgressive. She has another book called Be Safe, I Love You, which is about a woman, an Iraqi war vet, who's come back to home after serving in the war and dealing with PTSD. Again, it's a very dark novel, a crime novel. She deals with working class characters, which you don't see in novels. She does it really, really well, and she really pushes her characters to do things that I rarely see in books by other people.
EAG: I remember the shock I felt, reading Generation Loss, as I started to understand who Cass was. And it was such a thrill. I definitely connected with her, and I thought, "I need more of this."
EH: When I wrote that book, it was difficult to find a publisher because people were very put off by the character. That was the feedback I got, was that people thought the writing was great and this, that, and the other, but that the character was too unlikeable, too difficult, and people didn't want to read it. The book came out, coincidentally, the same year, within a few months of when The Girl with the Dragon Tattoo was translated into English. I remember a friend of mine saying, "This book reminds me a lot of your book," and I thought, That's really interesting, because up until that point, nobody seemed to be wanting to read about those kind of characters. As I was saying before, there are a lot more of those kind of characters around now. But it was 12 years ago, 13 years ago when I was looking for a publisher for Generation Loss. It was tough. People, they just didn't want to see it. I was very lucky.
EAG: What was the first instance in your life that you can remember thinking—seeing something or meeting a person and thinking that is really cool, even if you'd never heard the word yet.
EH: I was very geeky. My brother, who's a year younger than me, was always just a bit hipper than I was. He was really in the Rolling Stones, and my freshman year in high school I got him a book about the Stones. This was 1970 or '71. I gave it to him, but I just would spend so many hours looking at the photos in that book. I knew the music, we had Hot Rocks and More Hot Rocks, we had various albums of theirs. But, there was no MTV, there was no internet back then, so I saw pictures of the Stones but it was mostly from Circus Magazine or Tiger Beat, or whatever.
Looking at them and how they dressed, especially in that late '60s, turning-into-'70s era, it was amazing because they kind of combined the mod look with hippie stuff. Hippies were never really cool to me. I loved hippies, I was kind of a little hippie chick. But what the Stones did with that; Keith Richards wearing Anita Pallenburg's clothes, and her wearing his clothes, and Mick and Bianca Jagger wearing each other's clothes. Just this kind of sense that you could shift your identity, you could shift your gender, just so easily slip from one to the other.
In the movie Performance, the Mick Jagger character, his name is Turner—and he does [turn], he's a shape shifter. That for me was a very potent image of cool.
EAG: It sounds like what really sparked your interest was that sense of having the agency to change.
"You see a lot of pictures of Bowie laughing and smiling and having fun. You don't get that with Lou Reed."
And I think both she and Bowie, you get a sense that they're people who are constantly opening themselves up with their music. What they're writing about, they are exposing themselves, they're exploring things or they're exposing them. Whereas with Lou Reed, and with the music he did with the Velvet Underground, there was always much more of a sense of things being secret, things being hidden.
There's a really good profile of William Gibson in the New Yorker from a few weeks ago, where they quote Zero History, saying, "Secrets are the very root of cool." I read that and I was like, Yeah. Because I was thinking about us having this conversation. And I really think that's true. That's one of the things that comes across with Lou Reed's music. When he was opening himself up, or when he was opening the door a crack, on himself personally, he was giving you a glimpse of this other world in the 1960s, a world of trans people, a world of drug addicts, a world of artists. This world that existed in the city at that time and in other places, but one to which I certainly was not privy as a kid, as a young teenager, except from his music. He continued to do that throughout his career.
One of my favorite albums is Magic and Loss, which is about the death of close friends of his. But even in that, even in the title song, there is also this sense of being let in on a secret. And in that particular song, the secret is that of, how does one create out of despair? He sort of opens that door up and lets you see that. His work and his essence are tied very much into that notion of secrets, not that he himself was necessarily a secret person, but the music… And the classic images you see of him, he's withholding something. You don't see a whole lot of pictures of Lou Reed laughing, where you do see a lot of pictures of Bowie laughing and smiling and having fun. You don't get that with Lou Reed.
EAG: What are some of the things, people, places, that for you are just really shorthand for cool?
EH: Thinking back in time, I would say New York, downtown, Lower East Side, in the '70s and early '80s was cool, in part because it was also really scary. That's something else that goes with cool, is a sense of danger, of being slightly in peril by whatever it is. There's something slightly threatening about things people, places that are cool. I grew up around New York, and going down to the city at that time, I never felt safe. I had no desire to live there because it felt to me like a very dangerous place. I did not want to live in a place like that, but I loved visiting it.
I haven't been back in 10 years, but Reykjavik was a really cool place. Again, because I found it slightly sinister. I was there in 2007, and then the crash was in October 2008, and I was there again, we went in early 2009. So it was just a few months after the crash and the city was just a very desolate, sinister place. That was the Reykjavik that inspired Available Dark.
London, where I live for part of the year, is a really cool place and always has been. I don't feel intimidated by London the way I was by Reykjavik or New York City. I feel much more familiar with it. But it's a cool place just because there's so much going on. It's less cool than it was, though, because it's just been taken over by oligarchs. And everywhere you look, as in New York, you just see these symbols, these huge, mega-skyscrapers that in many instances are empty, nobody's living in them. In that sense, I think London and New York are nowhere near as cool as they used to be. But then, nothing is ever as cool as it used to be.
I saw the Ramones's first show in DC, which was I think in early 1976, and I brought some of my friends with me. I was like, "Oh, we've got to see this band, we've got to see this band." We went there and I'm not exaggerating, there were maybe 20 people, 30 people there. It was in the Bayou, it was in this big space and it was just empty. We were on the dance floor right in front of the stage. There was just no one there. But it was like that with many of the bands that I saw at that time. It was a very different scene. It had not exploded or imploded yet. And it was cool, and it was fun because it was talking about secrets, it felt like a secret.
"Once things pass over into style, when they're being commodified, they're less cool. Or uncool."
Within a couple of years, that shifted. It went from being a secret to a commodity very, very quickly, which is what happens. "Revolt into style," which is the title of a great book by George Melly about cool. He quotes the poet Thom Gunn—the poem was about Elvis, but the line goes, "He turned revolt into style," and Melly took it as the title of his book. It happens certainly with pop culture, but I think it happens with things that are cool. I think they're at their coolest when there is still something transgressive about it. And then once things pass over into style, when they're being commodified, they're less cool. Or uncool.
I kick myself now because I could have known a lot more people and/or known a lot more about what was going on. But I think some of it, too, was just that as a writer, and especially when I was younger, I always felt very much outside of things, that I wanted to be outside, I wanted to have that detachment, to be the observer. I did kind of go out of my way to keep a certain distance from things so that I could observe them.
EAG: Is that because you consciously or otherwise knew that you wanted to be able to do something with the material that you were receiving? Or was it something less complicated?
EH: I don't know that I was conscious at that time of using the material. I was very conscious that I was very fortunate to be right there at ground zero to something that was happening. Something special was going on and I knew it and I made a point to soak up as much of it as I could, I really did. And I feel really grateful for that and also really glad that I had the presence of mind as an 18-year-old, 17-year-old, to kind of jump on that. I ended up flunking out of college after three years, basically because I was spending all my time going to shows. But I remember thinking, "Okay, what am I going to remember 30 years from now? What is going to be more important? That I study for this philosophy exam, or that I go to see Patti Smith at The Cellar Door?" There was no choice. I was like, "I'm definitely going to go see Patti Smith at The Cellar Door." And I didn't know that eventually it would pay off, but it did, having had those experiences and having been there at that time. But as for the detachment, I think that that is just maybe more of a personal thing. There's a certain kind of detachment, inner detachment, that I keep or possess, whether or not I want to, that I think does serve one as a writer or as an artist. I think you do need to have that detachment.
EAG: Do you think that that sense of detachment is a little bit of a prerequisite for something that we think of as cool?
EH: Yeah, I do. I've been thinking about this, again, knowing that we were going to have this conversation. I think many of the images that we have of people who embody a sort of cool, and they're loners. You're seeing James Dean, you're seeing Patti Smith on the cover of Horses, you're seeing Marlon Brando in On the Waterfront. You're seeing people who as icons are emblematic of detachment, and there's this sort of, don't come any closer, keep your distance, which is part of what makes them sexy because you're like, "Wait, I want to be the one who's going to pierce that veil."
But I think in the US there is this history, this idealization of the individual, which I think has gotten us into some really bad places. It's a whole big, complicated mythology and a whole big, politically charged mythology that America has created about itself centered on the importance of the individual. But I think that has become kind of tangled up with notions of cool.
Ω